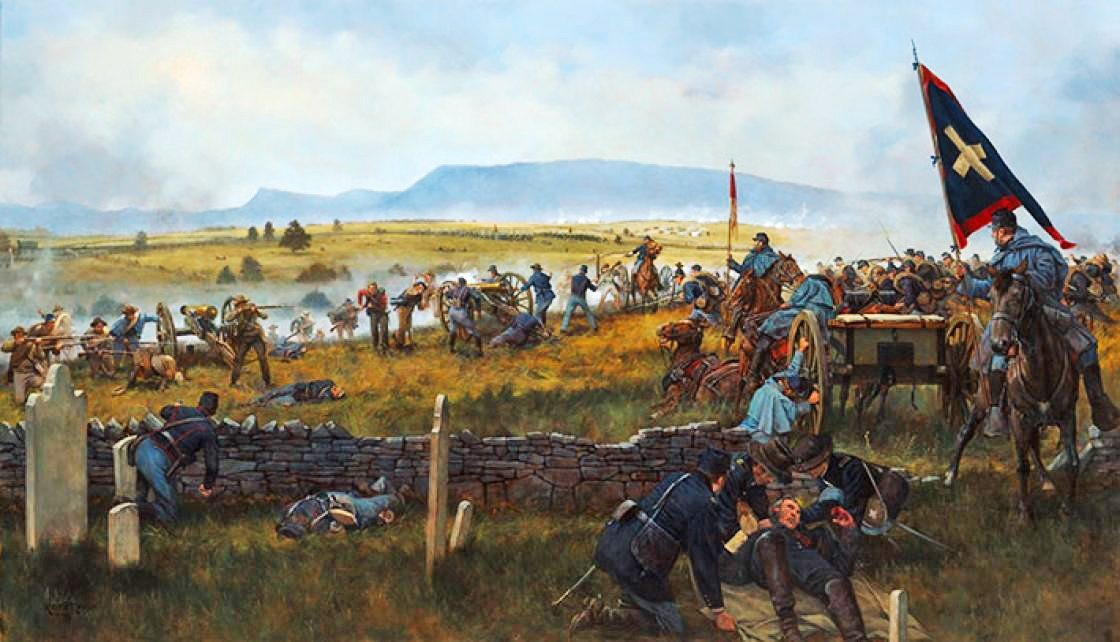 Confederate attack on VI Corps at Middleton's Cemetery
The Civil War Round Table of Greater Kingston returned to the Shenandoah Valley and the battlefield of Cedar Creek when we gathered for our April 7, 2022 meeting. Our guide was long-time member Murray Hogben who has spoken to us before on this particular Civil War clash of arms. On this occasion, Murray focused his presentation on the role played by Brigadier General George Washington Getty commanding the 2nd Division of the Union VI Corps. As Murray explained, he is drawn to Union generals who face desperate situations during battle, but whose courage and coolness eventually save the day. He referred to Joshua Lawrence Chamberlain at Little Round Top as an exemplar of this particular brand of grace under pressure, as well as his 2018 presentation on John Converse Starkweather at the Battle of Perryville.
Unfortunately, I was unable to be present for Murray's presentation, but he was kind enough to send me his 19 pages of detailed notes which form the basis of this summary. This reminds me that I forgot to thank Bill Cookman for sending me a copy of his notes last month, which were of great assistance in my write-up of his presentation on the role of railways in the Civil War.
To set the stage, Murray began with a brief outline of events in the Shenandoah Valley during the summer and early fall of 1864. In July Lieutenant-General Jubal A. Early and the Army of the Valley carried out their Raid on Washington, which resulted in the diversion of Union forces from the siege of Richmond and Petersburg to deal with the Confederate threat to the Federal capitol. These forces were organized into the Union Army of the Shenandoah under the command of Major-General Philip H. Sheridan. During September and October, Sheridan's troops succeeded in driving the Confederates back up the Valley (i.e., southwards) as far as Mount Jackson, giving the rebels a couple of hard knocks at Opequon Creek and Fisher's Hill in the process.
On October 6th Sheridan began withdrawing his army northwards down the Valley. Along the way, Union troops put the torch to every barn, farmhouse, orchard, haystack, chicken coop, smokehouse and outbuilding they could find. It was Sheridan's intent to deny the hard-pressed rebels the fruits of the Valley's fall harvest. An engagement at Tom's Brook on October 9th resulted in another Union victory, this one notable for the aggressive tactics displayed by the Union cavalry.
It was October 10th when Sheridan reached Middletown, just north of Cedar Creek along the Valley turnpike, and ordered his army to set up encampments. Early's dispersed and defeated army no longer seemed to pose a threat and Sheridan felt secure in leaving his own command on October 13th to travel to Washington in response to a summons to meet with President Lincoln and Secretary of War Edwin Stanton. Sheridan appointed Major-General Horatio G. Wright of the VI Corps to mind the store in his absence.
Meanwhile, Jubal Early regrouped his men and looked for a way to strike a blow at Sheridan's barnburners and chicken-thieves. Murray described how on October 17th several officers including Major-General John B. Gordon and Major Jed Hotchkiss of the Topographical Engineers made the arduous climb up to the Confederate observation post at the northern end of Massanutten Mountain range. This vantage point offered a panoramic view of Sheridan's troop deployment. Gordon could see the Union cavalry posted in the rolling wooded countryside to the west, suggesting this was where Sheridan thought himself most vulnerable. Closer at hand, Gordon could also see the bulk of the Union infantry dug in west of the Valley Turnpike with some advance entrenchments just north of Cedar Creek.
Early's army numbered only about 21,100 men compared to the 31,610 troops Sheridan commanded, but Gordon and Hotchkiss concluded that a strong column of infantry advancing under cover of darkness could deliver a surprise early dawn attack on the left of the Union position with a fair chance of success. To distract the enemy's cavalry, Confederate troopers would simultaneously stage a noisy demonstration on the west side of the battlefield.
General Early approved the plan and issued orders to have it carried out on the morning of October 19th. Under a bright harvest moon the divisions of Major-Generals Joseph Kershaw, John B. Gordon, Stephen D. Ramseur, and Brigadier-Generals Gabriel C. Wharton and John Pegram made their approach march to Cedar Creek along the east bank of the north fork of the Shenandoah River. A providential ground fog then concealed the Confederate infantry columns as they took up their attack positions while off to the west Major-General Tom Rosser's cavalry division waited the command to begin its demonstration against the Union cavalry opposite them.
Meanwhile, in Sheridan's absence the Army of the Shenandoah allowed its standards of vigilance to slip. Or perhaps the officers and men took their cue from General Wright, who had decided on the 19th to dispense with the regular 2:00 am stand-to-arms that Sheridan had instituted several days earlier. In any event, many Union soldiers were literally caught napping when, at about 4:30 am, the early morning chorus of birdsong was suddenly shattered by crashing volleys of musketry and lines of men in gray and butternut charging out of the mist howling the rebel yell.
With the aid of maps and illustrations, Murray described in some detail how the two divisions of Major-General George Crook's VIII Corps (also known as the Army of West Virginia) were quickly rousted from their advance entrenchments. Many Union soldiers were taken prisoner while others turned and ran north away from the fighting. Amid the confusion, some Union gunners blindly blasted canister into the swirling fog while others held their fire for lack of visible targets.
Next it was the turn of Major-General William H. Emory and his XIX Corps near Belle Grove to face the Confederate onslaught. Emory deployed his men to act as a breakwater and rallying point for the fleeing VIII Corps men, but to little avail. There was confused hand-to-hand fighting amid the literal fog of war as the XIX Corps men tried to hold off the Confederate attackers who came at them from every direction. Murray described how the Union troops had to take shelter on the reverse side of their entrenchments when the rebels charged them from the rear. Finally, at about 7:30 am, Emory ordered his shaken ranks to stage a fighting withdrawal and take position behind the VI Corps to the north.
It was fortunate that the VI Corps was a veteran outfit because, as Murray pointed out, it was now the last organized Union formation left on the field. Its three divisions--the 1st under Brigadier-General Frank Wheaton, the 2nd under Brigadier-General George W. Getty, and the 3rd under Colonel Warren Keifer--prepared themselves physically and mentally to meet the coming ordeal as they advanced to take up positions on the higher ground on Cemetery Hill just north of Middletown.
It was now that General Getty's 2nd Division proved its mettle as it marched forward on the left of the Union advance, with the divisions of Wheaton and Keifer forming the rest of the line to its right. Rather than waiting to receive the Confederate attack, Getty threw out a skirmish line and attacked in line of battle, seizing the Valley turnpike to deny its use to Ramseur's rebels and then launching his own flank attack on the right of the enemy line. Meanwhile, the rest of the VI Corps line began to buckle under the strain of the Confederate assaults and slowly fell back. As Murray said, the exact timing and sequence of events is unclear, but Wheaton's and Keifer's men ended up taking shelter behind the 2nd Division while for about two hours Getty and his men held their ground on Cemetery Hill and withstood everything that Early's army could throw against them.
As far as George Washington Getty is concerned, the basic outlines of his prewar life and career are known. The son of Irish immigrants, Getty was born in Georgetown, Maryland, in 1819. He graduated from West Point in 1840 where his classmates included George Thomas, Richard Ewell, and William Tecumseh Sherman. Service in the Mexican War was followed by two campaigns against the Seminole Indians in the late 1840s and '50s. With the coming of the Civil War, Getty served as an artillery officer during the Peninsula Campaign and subsequently saw action with the IX Corps at Antietam and Fredericksburg. After further assignments in the Eastern Theatre in 1863, Getty was appointed to command of the 2nd Division of the VI Corps. Following a period of recuperation following a serious arm wound suffered in the Battle of the Wilderness in May 1864, Getty finally found himself serving under Phil Sheridan in the Army of the Shenandoah.
Unfortunately, said Murray, there seems to be little in the historical record to illuminate any personal details about Getty's personality or character with the result that he is a somewhat elusive figure in the pantheon of fighting Civil War generals. Nevertheless, modern scholars have acknowledged his military talents and his ability to inspire the troops of the VI Corp's 2nd Division. Murray quoted from Jeffry D. Wert's book, From Winchester to Cedar Creek: The Shenandoah Campaign of 1864: "Getty was one of the best commanders in the Army and his men were some of the finest soldiers."
Returning to Getty's battered 2nd Division as it stubbornly stood its ground on Cemetery Hill, mid-morning on October 19th, it appeared to some Confederate officers that the Army of the Shenandoah was now on the brink of total collapse. Murray referred to General John B. Gordon's postwar memoirs where he described his efforts to organize an artillery bombardment of Cemetery Hill in preparation for a final assault on the remnants of the Union VI Corps. General Early then rode up to announce, "Well, Gordon, this is glory enough for one day."
Having captured eighteen guns and about 1,300 Union prisoners, Early seemed to believe Sheridan's army was both defeated and demoralized and would soon retreat from the field. "They will all go directly," he told Gordon. Early was no doubt also considering the exhausted and disorganized condition of his own troops, many of whom were already looting the abundant stockpiles of food and other supplies in the Union camps. When Gordon expostulated on the need to deliver a knock-out blow against the VI Corps while the opportunity remained, Early repeated: "It will go, too, directly."
Of course, the VI Corps did not go anywhere, and its battered three divisions served as a rallying point for the men of the VIII Corps and XIX Corps who, far from being whipped, were only looking for an opportunity to redeem themselves after their sunrise skedaddle that morning. General Wright suddenly remembered that he had the cavalry divisions of Brigadier-Generals George A. Custer and Wesley Merritt under his command, and they were now ordered to strengthen the Union position athwart the Valley Turnpike.
At about 10:30 am, General "Little Phil" Sheridan came galloping onto the field to rejoin his army after his epic ride from Winchester. If only Getty had had a flashier, more self-promoting personality, he and his do-or-die stand on Cemetery Hill might be better remembered and have more name recognition today than Sheridan's horse Rienzi. In any event, Sheridan's presence was a tonic to the Union troops who, now recalled to their duty, gamely took their places again in the ranks of their reformed regiments and batteries. At about 4:00 pm Sheridan ordered a general attack which soon shattered Early's army and swept it from the field, sending the rebels tumbling back to Fisher's Hill. Never again would a Confederate army threaten Washington from the Shenandoah Valley.
Murray concluded with a few comments about General Getty's postwar years. He was stationed in New Mexico and at Fortress Monroe, and later carried out various higher administrative duties. Getty was posted to the artillery branch in 1882 and retired from the army the following year. He returned to a farm in his native Maryland where he died in 1901. He was buried in Arlington Cemetery and a park in his home state is named after him.
Editor: Tom Brzezicki
AMERICAN BATTLEFIELD TRUST: preservation of Civil War Sites
Your annual generous donations totalled $530. The sale of many books given to us for sale to our members and to Military Antiques Toronto totalled $310. Our Round Table is matching your donations for another $530 so our grand total in Canadian funds came to $1,370. Transferred to a US funds, I sent a money order to the Trust of about US$1,100. This money has been directed towards preserving the property defended by Hancock against the attack by Early at Williams-burg. Since our contribution is being matched at a ratio of 163 to 1, our donation will amount to $175,000 towards saving these 245 acres forever. The total purchase price is $9.4 million, so we've contributed almost 2% of that purchase! Good on us!
FROM THE DESK OF THE SECRETARY:
Mentioned above is the effort towards preservation, the Trust's annual report gives a summation of all the other efforts in 2021. They are amazing. In 31 separate land transactions, 1,272 acres of land have been preserved at a value of $33 million. The average 'leverage' is a record-breaking $22 for every $1 donated. Here is a list of the battlefields protected with their acreage in 2021.
Louisiana: Mansfield, 34.1; Port Hudson, 2.6

Mississippi: Corinth, 0.6; Raymond, 43.5; Vicksburg, 32.7

North Carolina: Averasboro, 48,8; Bentonville, 41.3

Sought Carolina: Parker's Ferry, 31.0

Pennsylvania: Brandywine, 71.0; Gettysburg, 7.5

Tennessee: Chattanooga, 309.2; David Bridge, 1.0; Parker's Cross Roads, 0.3

Virginia: Bristoe Station, 22.4; Cold harbor, 29.9; Great Bridge, 0.7; Manassas, 3.5;
Sailor's Creek, 1.1; Second Winchester, 151.6; Spotsylvania Court House, 136.7;
Trevilian Station, 2.8; Ware Bottom Church, 53.3; Williamsburg, 245.4
Our Round Table is a very well-kept secret. Be sure to spread the word amongst your conversations and invite your friends and acquaintances to our next program. No charge until September, the beginning of our new year.